Developer's Horror Stories
Halloween is here! We went and look for our horror stories book and choose the creepiest and most terrifying ones. We guarantee you'll get the goosebumps!
The Missing Semicolon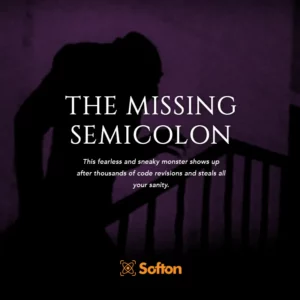 This fearless and sneaky monster shows up after thousands of code reviews and steals all your sanity!
The Software Centipede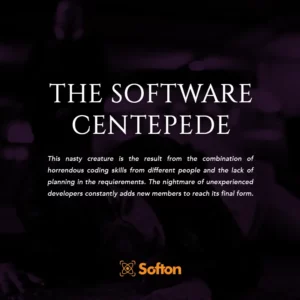 This nasty creature is the result from the combination of horrendous coding skills from different people and the lack of planning in the requirements. The nightmare of unexperienced developers constantly adds new members to reach is final form.
Internet Explorer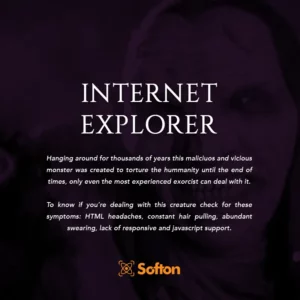 Hanging around for thousands of years this malicious and vicious monster was created to torture the humanity until the end of times, only the most experienced exorcist can deal with it.
To know if you're dealing with this creature check these symptoms: HTML headaches, constant hair pulling, abundant swearing, lack of javascript and responsive support.
The Evil Orphan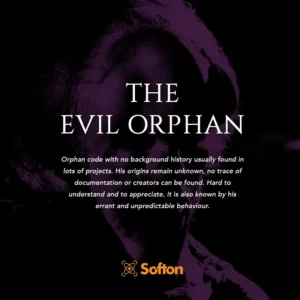 Orphan code with no background history usually found in lots of projects. His origins remains unknown, no trace of documentation or creators can be found. Hard to understand and to appreciate, it is also known by his errant and unpredictable behaviour.
The Mutant Bug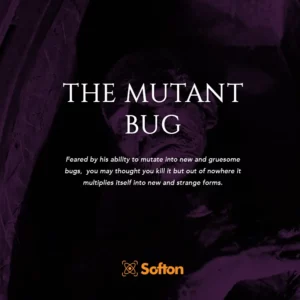 Feared by his ability to mutate into new and gruesome bugs, you may thought you kill it but out of nowhere it multiplies itself into new and strange forms.
28 Days Later… The Project Still Goes On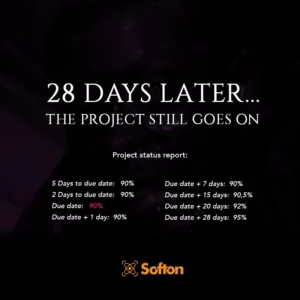 Project Status Report:
5 Days to due date: 90%
2 Days to due date: 90%
Due date: 90%
Due date + 1 day: 90%
Due date + 7 day: 90%

Due date + 15 day: 90,5%

Due date + 20 day: 90%

Due date + 28 day: 95%

The Indentedless Creature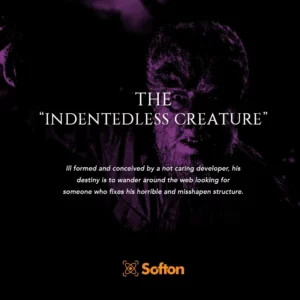 Ill formed and conceived by a not caring developer, his destiny is to wander around the web looking for someone who fixes his horrible and misshapen structure.
The Vamproject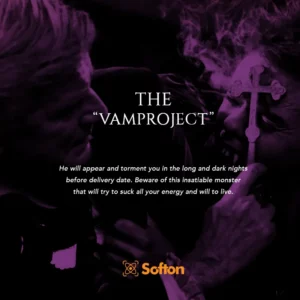 He will appear and torment you in the long and dark nights before delivery date. Beware of this insatiable monster that will try to suck all your energy and will to live.
The Easy Ticket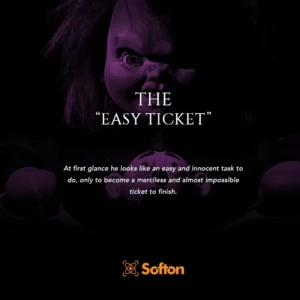 At first glance he looks like an easy and innocent task to do, only to become a merciless and almost impossible ticket to finish.
The Code Review Massacre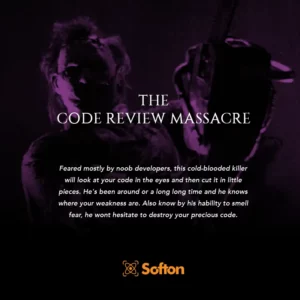 Feared mostly by noob developers, this cold-blooded killer will look at your code in the eye and then cut it in little pieces. He's been around for a long time and he knows where your weakness are. Also know by his ability to smell fear, he wont hesitate to destroy your precious code.
Who you gonna call?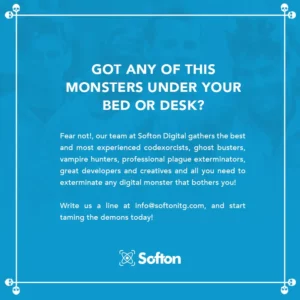 Fear not! our team at Softon Digital gathers the best and most experienced codexorcists, ghost busters, vampire hunters, professional plague exterminators, great developers and creatives and all you need to exterminate any digital monster that bothers you!
Write us a line at info@softonitg.com and start taming the demons today!
Got your own horror stories? Share them with us in the comments section!